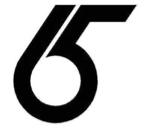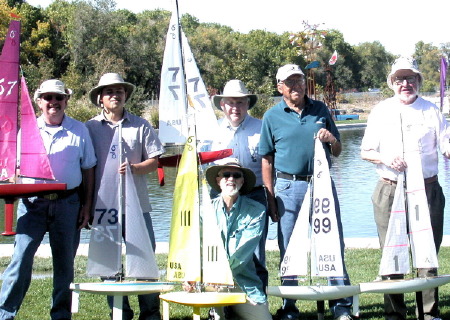 Why are these people smiling? Because they are sailing RG 65s, the oldest new class in the American Model Yachting Association. These "right size" pocket rockets are big enough to sail like a real boat, small enough to fit rigged in a tiny car, and light enough to provide competitive, action-packed racing. They are also economical: you can build a competitive boat, radio and all, for well under $200.  This picture was taken at the inaugural Rio Grande Cup in Albuquerque NM last year. We're doing it again this year, October 16-18, so mark your calendars. The Cup, which you get to keep, is a nice miniature piece of Navajo silver work, in keeping with the size of the boats.
The Boats
The RG 65 class is defined by a very simple set of limits on basic dimensions and characteristics of a boat: a monohull that is 65 centimeters (25.6 inches) long, with a rig no higher than 110 centimeters (43.3 inches) and carrying a maximum of 2250 square centimeters (348.7 square inches) of sail area. [We gave you inches so you could visualize the size of the boat more easily -- from now on it's all centimeters, which you'll find are much easier to work with when building a boat]. You can have two radio channels and three rigs of different sizes to cope with varying winds. And that's about it.
These limits have been validated by the history of the class, which spans over 50 years. The class was started in Buenos Aires, Argentina in the 1950s by Juan Gherzi as a free sailing class called G 65. In 1978 radio was added and it became RG 65. So you don't have to worry that this is something new and untested.
The detailed rules can be found by clicking on the link at the top of this page. Don't be discouraged by the process of measuring sail area: there are plenty of existing designs whose sail plans you can copy.
The RG 65 is a designer and builder's class, and an excellent beginner's class. This may seem like a contradiction, but it really isn't. If you don't want to design you have plenty of published designs to choose from. And if you can build a balsa wood box you can build an RG 65. Even the ballast, usually a problem for beginners, can be simply made from a trolling sinker. The large numbers of RG 65 builders worldwide form a great support group, which can be tapped into by joining the forums listed on our links page.
Our Organization
There's as little to it as we can get by with

  If you're having trouble getting to sleep some night, you can click on the Constitution and Bylaws link at the top of the page and read up on how we operate. Basically, we do two things: we manage the affairs of the class in the U.S., and we represent U.S. owners to the International Class Authority.  If you need anything, just email us at rg65.info@gmail.com and we'll get right back to you.  attached below are the membership for and the good faith statement for your boat(s).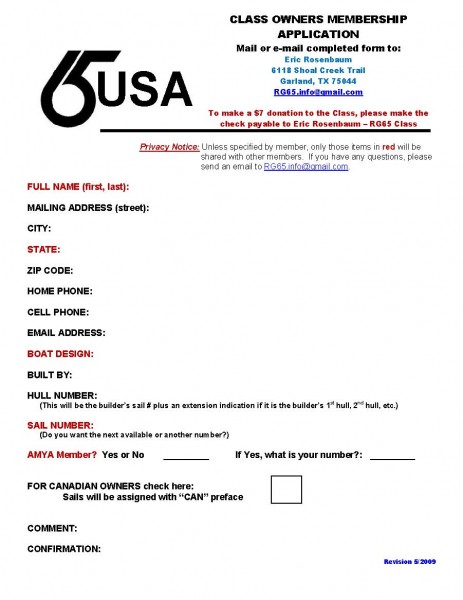 USA RG65 Registration form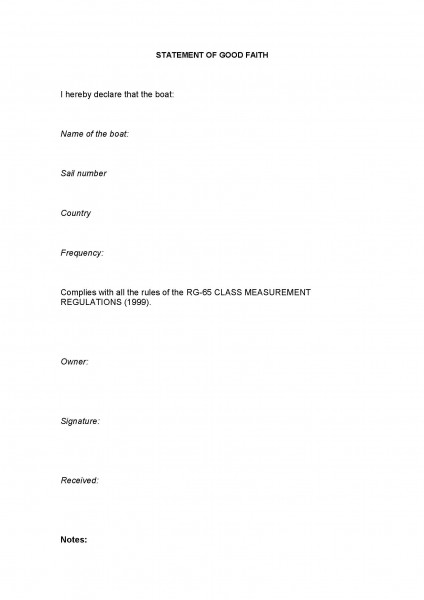 US RG65 Statement of Good Faith